As a result, installation and operation of electrical wires and cables can be damaged. In the process of installation is not uncommon creases or drawing, and later when you work them can damage the rodents for example. For the safety of the wiring from mechanical damage, a flexible metal hose RZTC-H leaky.
Metal hose LLC «Tehmashservis» — a flexible leaky hose with wire.
Our metal hose to the message contained:
1. Wide assortment.
2. Wide range of sizes — from DN 50mm to DN 3.8mm.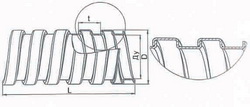 t — thread;
L — length in the stretched state;
Ду — diameter of the hole;
D — largest outside.
3. Our metal hose is resistant to corrosion due to the fact that the tape, which is included in its composition of zinc in full, including all the twists and sections.
6. Metal hose Company Ltd. «Tehmashservis» certified.